Jefferson County Growth Association
Serving Businesses & Encouraging Growth in Jefferson County

The Mission of the Jefferson County Growth Association (JCGA) is to provide coordination of professional leadership to promote and support new and existing growth throughout Jefferson County, Missouri.
Learn More
Connect and Grow. . . .
Your membership in the JCGA is an investment in the success of your business!
Join Today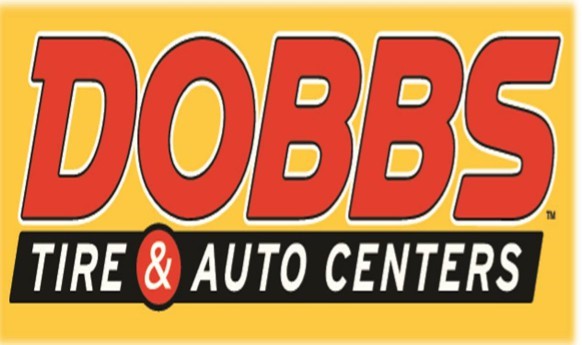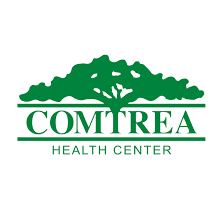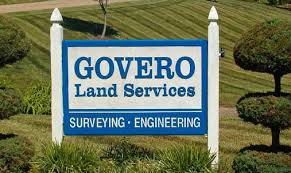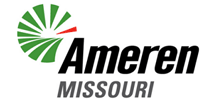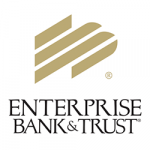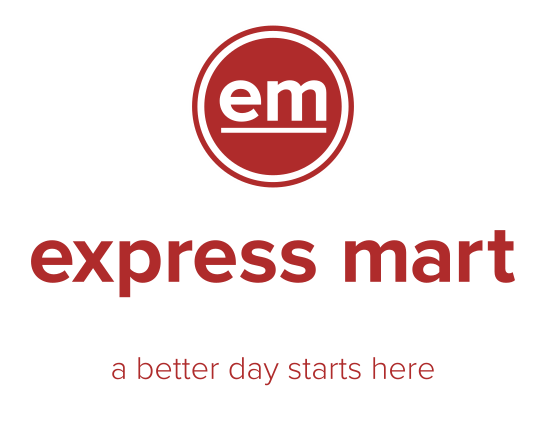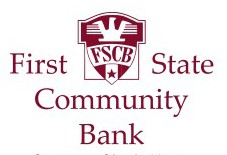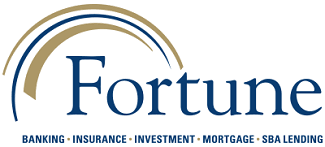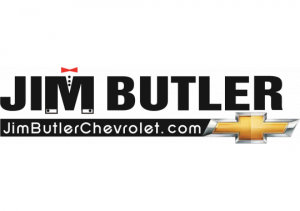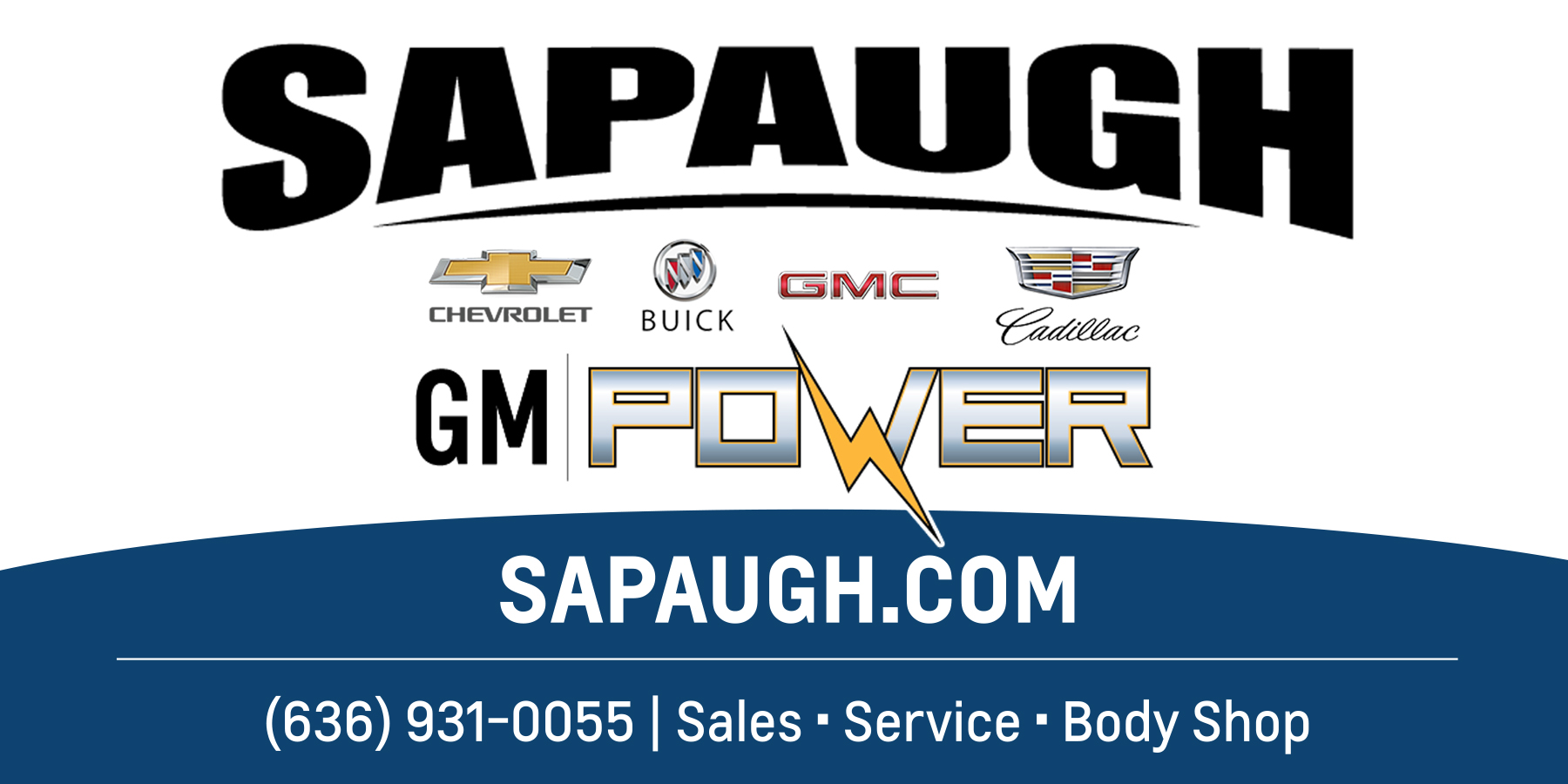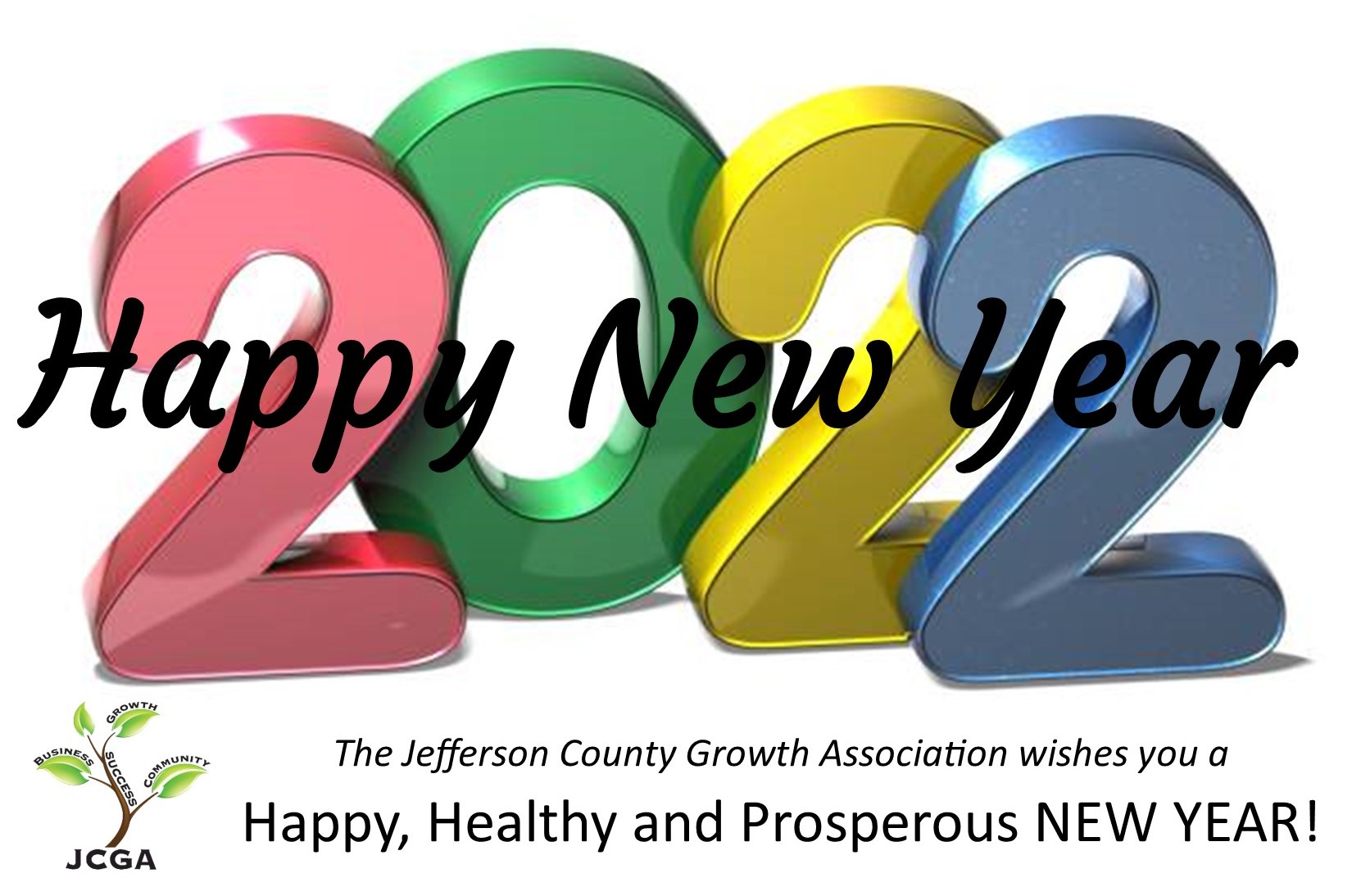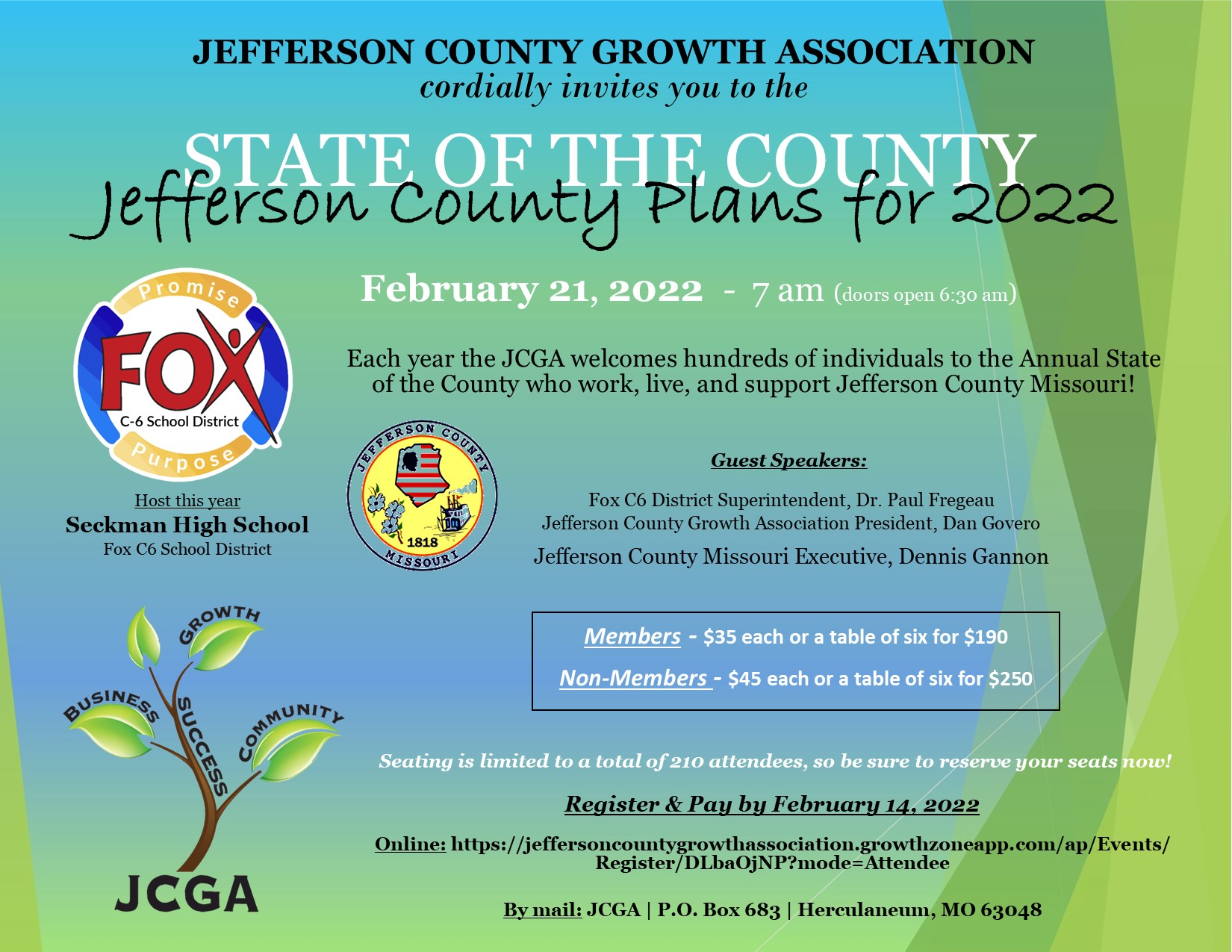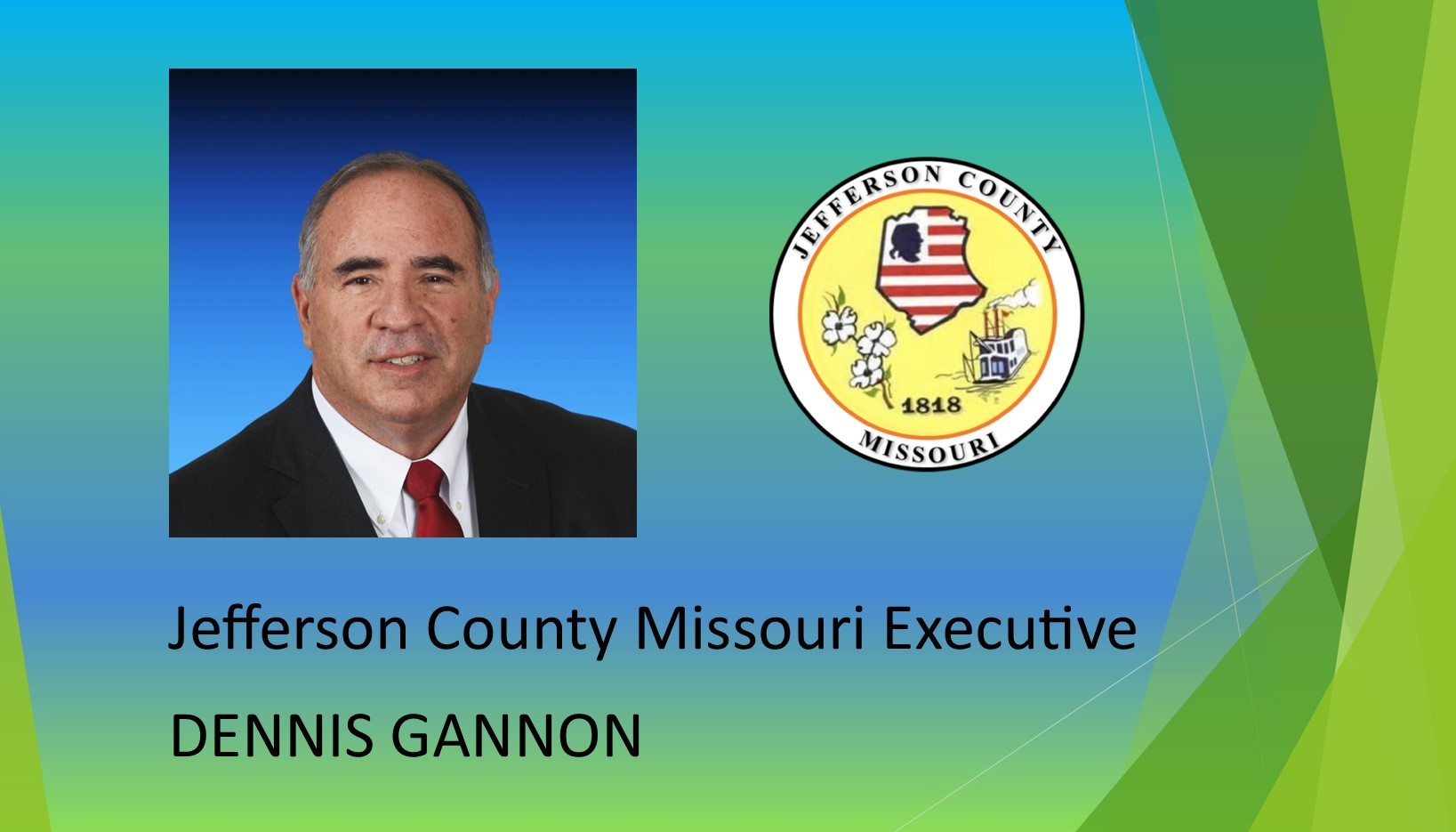 Each February the Jefferson County Growth Association convenes over 300 community leaders to hear the Jefferson County Missouri Executive deliver the State of the County Address. Prior year accomplishments, priorities and finances are discussed and what is planned for the coming year are highlighted for the Jefferson County area.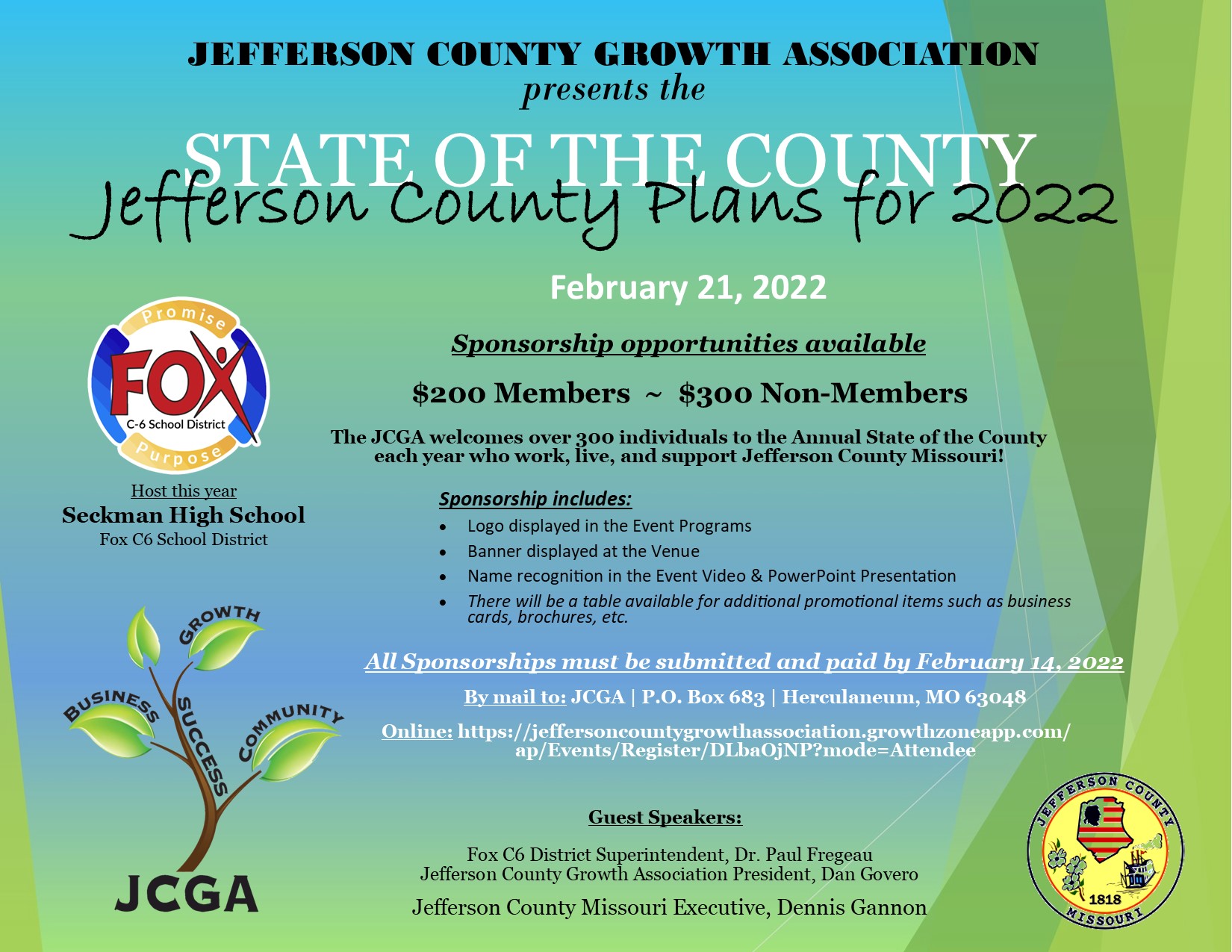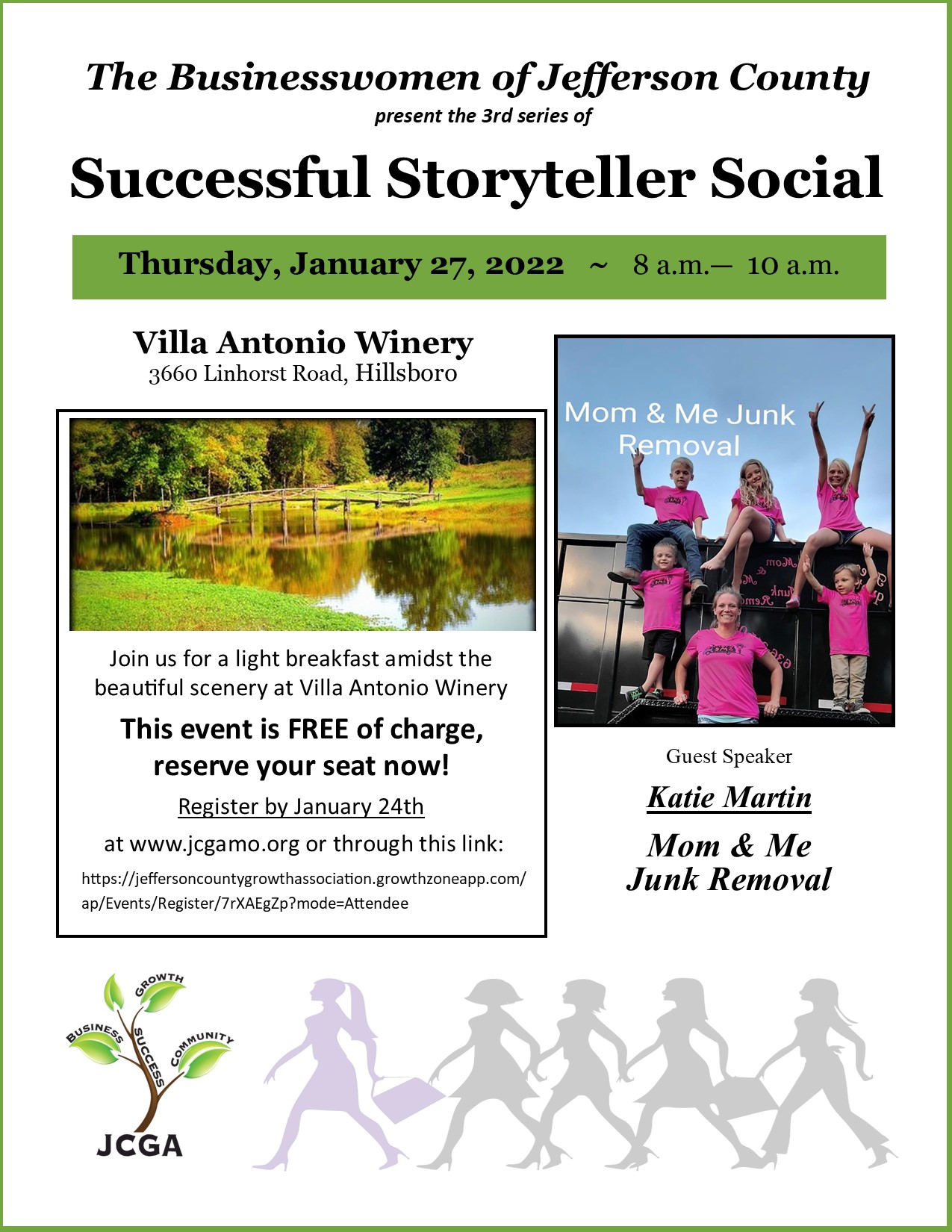 Jefferson County Manufacturing & Logistics Industry Overview
Above is a marketing piece created by St Louis Regional Freightway through contract with the Hauser Group. This profile highlights Jefferson County's manufacturing and logistics potential and brings focus to the economic possibilities of the Jefferson County Port District and greater Jefferson County.  Along with St Louis Regional Freightway, partnerships between the EDC, Jefferson County Port Authority, Jefferson County Growth Association, and others are mentioned. Members of JCPA and County Executive Gannon contributed to this overview, as well.
This information has been shared by the (EDC) Economic Development Corporation of Jefferson County, Missouri.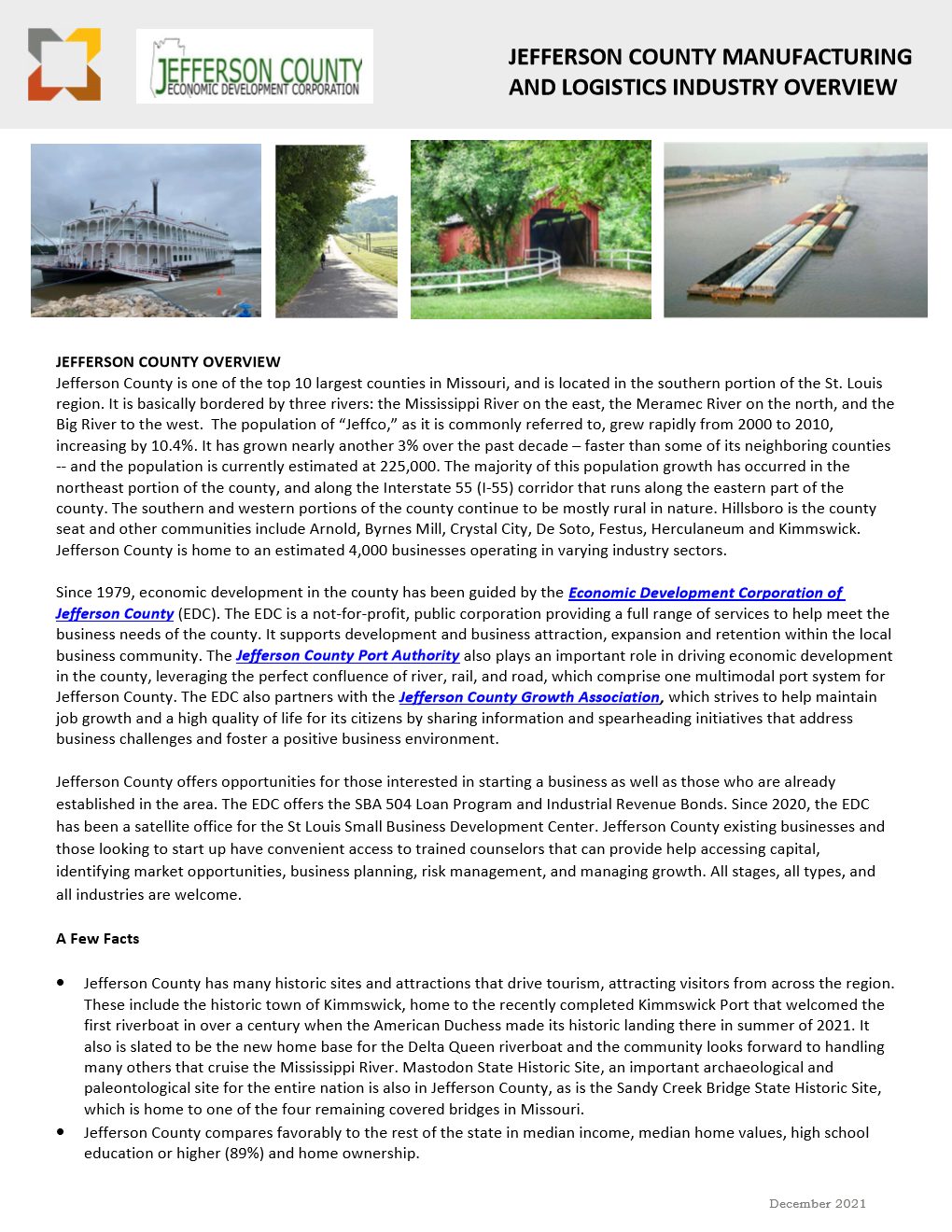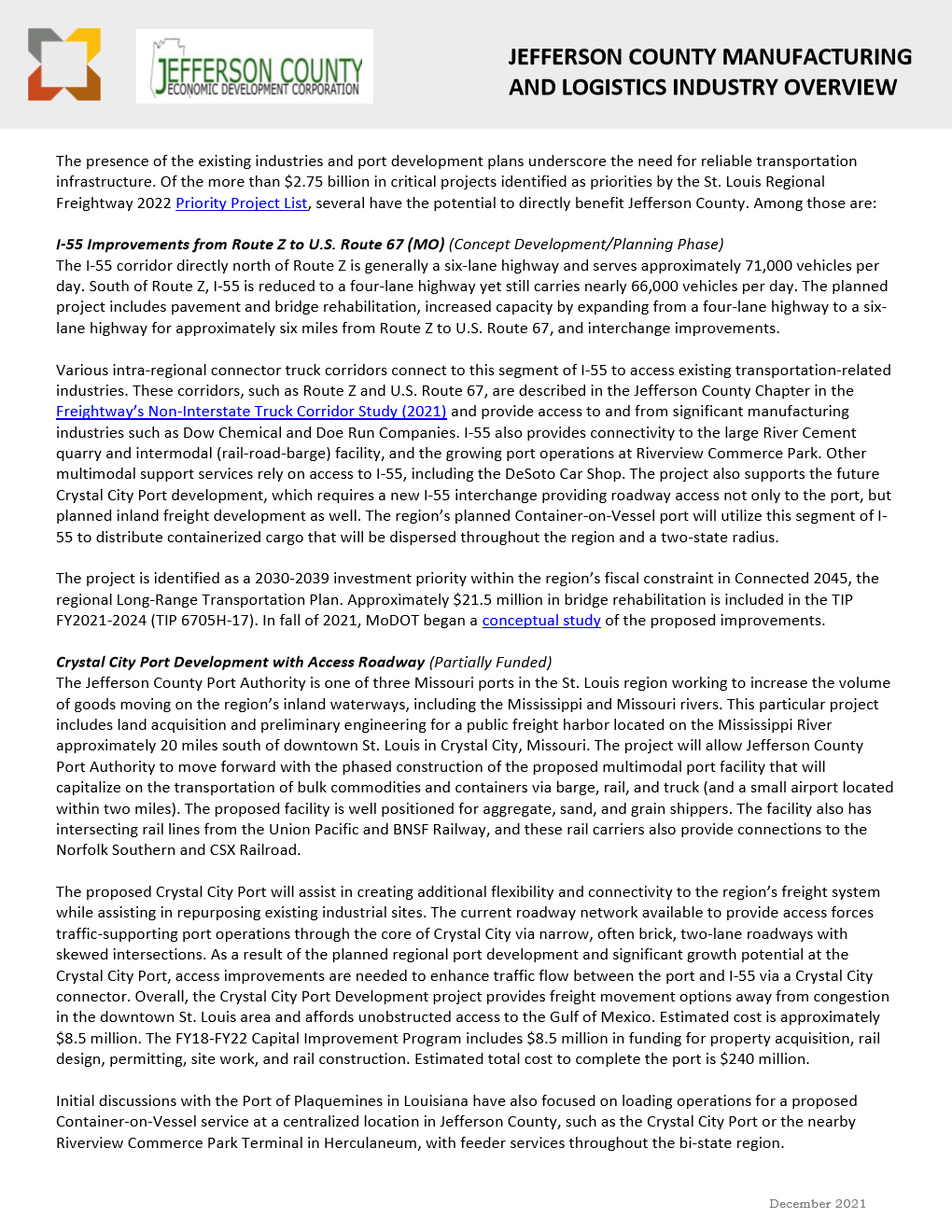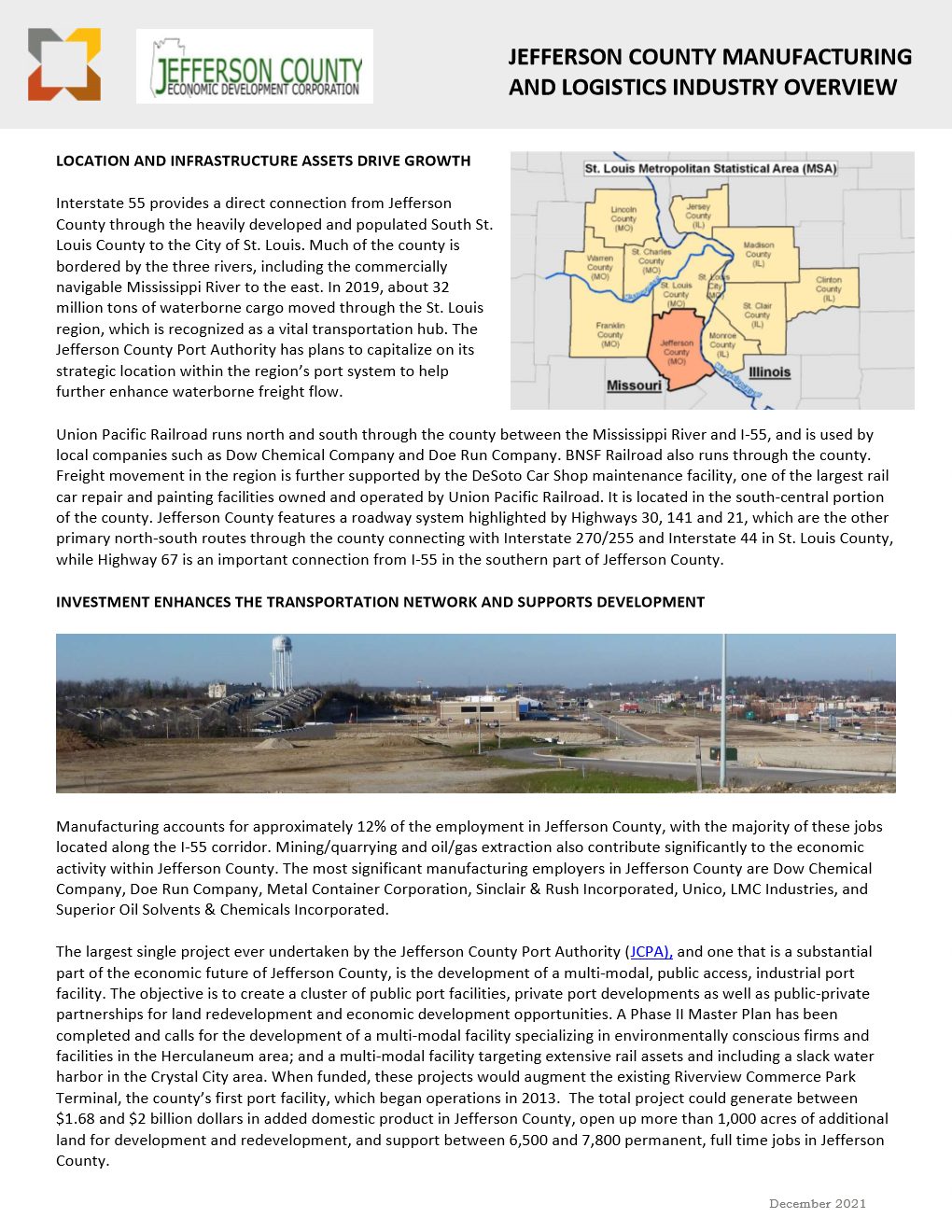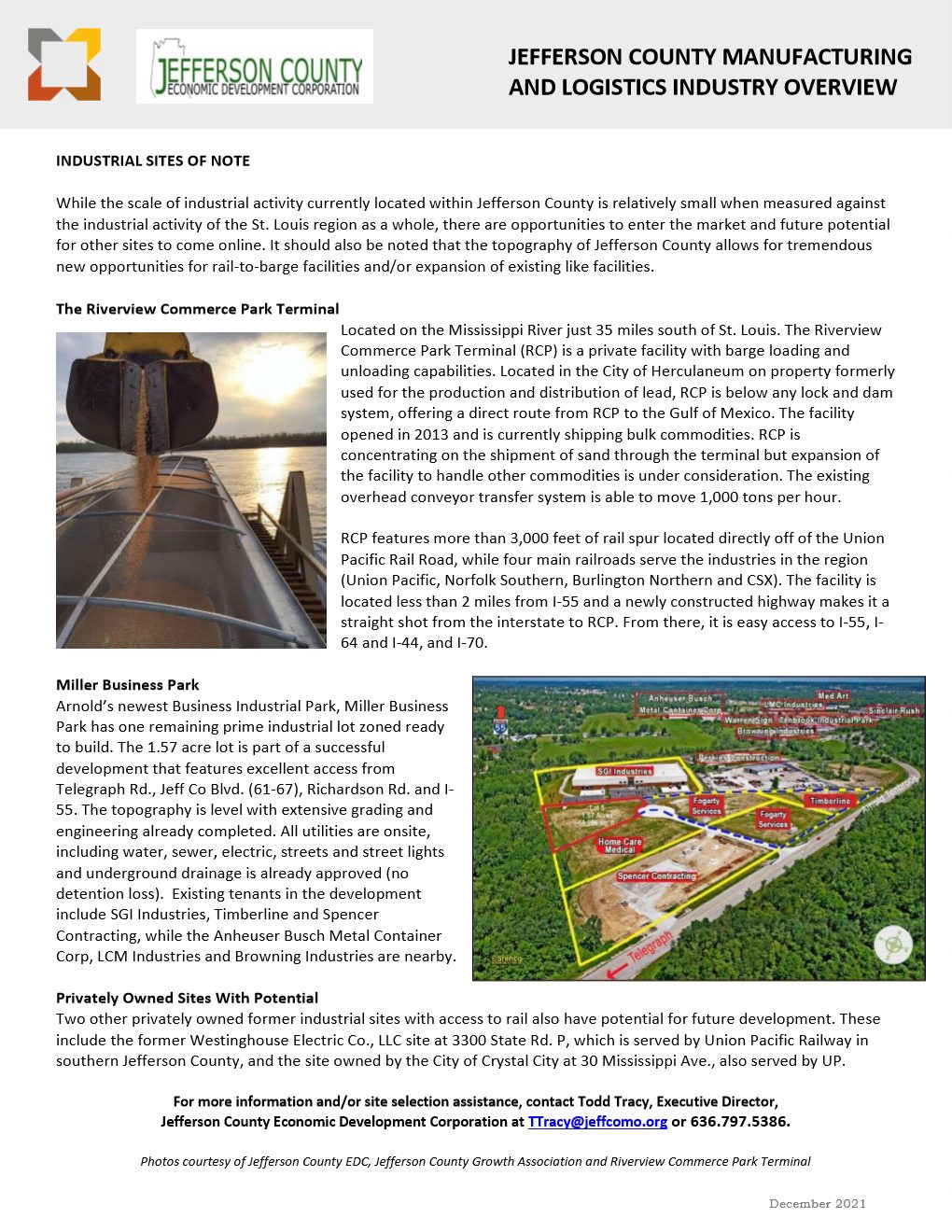 Proposed Container-On-Vessel Service to the St. Louis Region advances with new partners signing on for the development of a Container Port Facility in Jefferson County, Missouri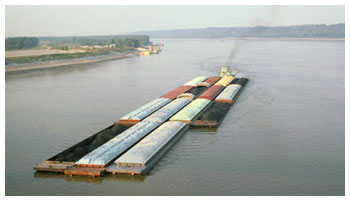 Photo credit - Jefferson County Port Authority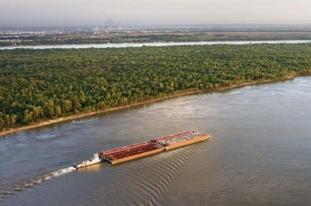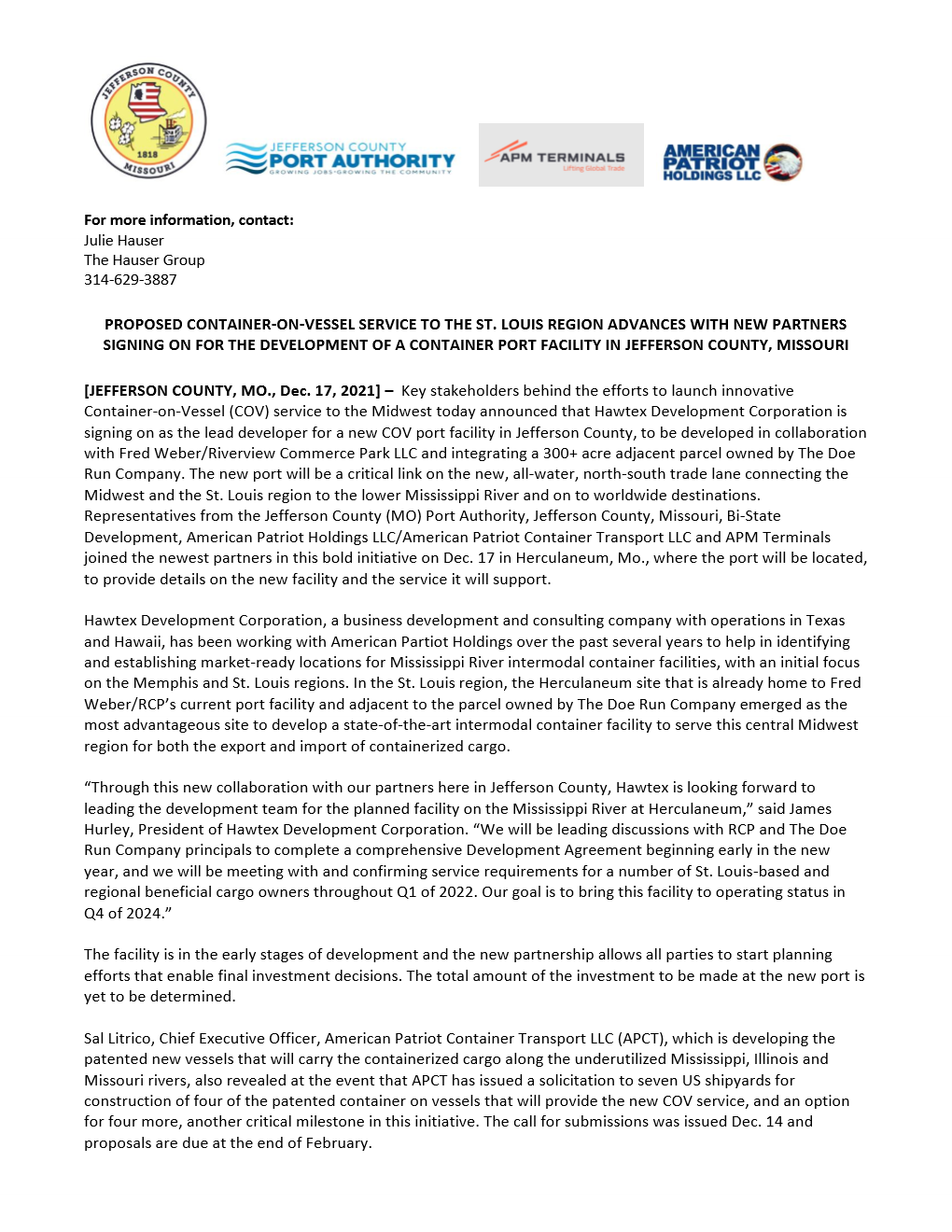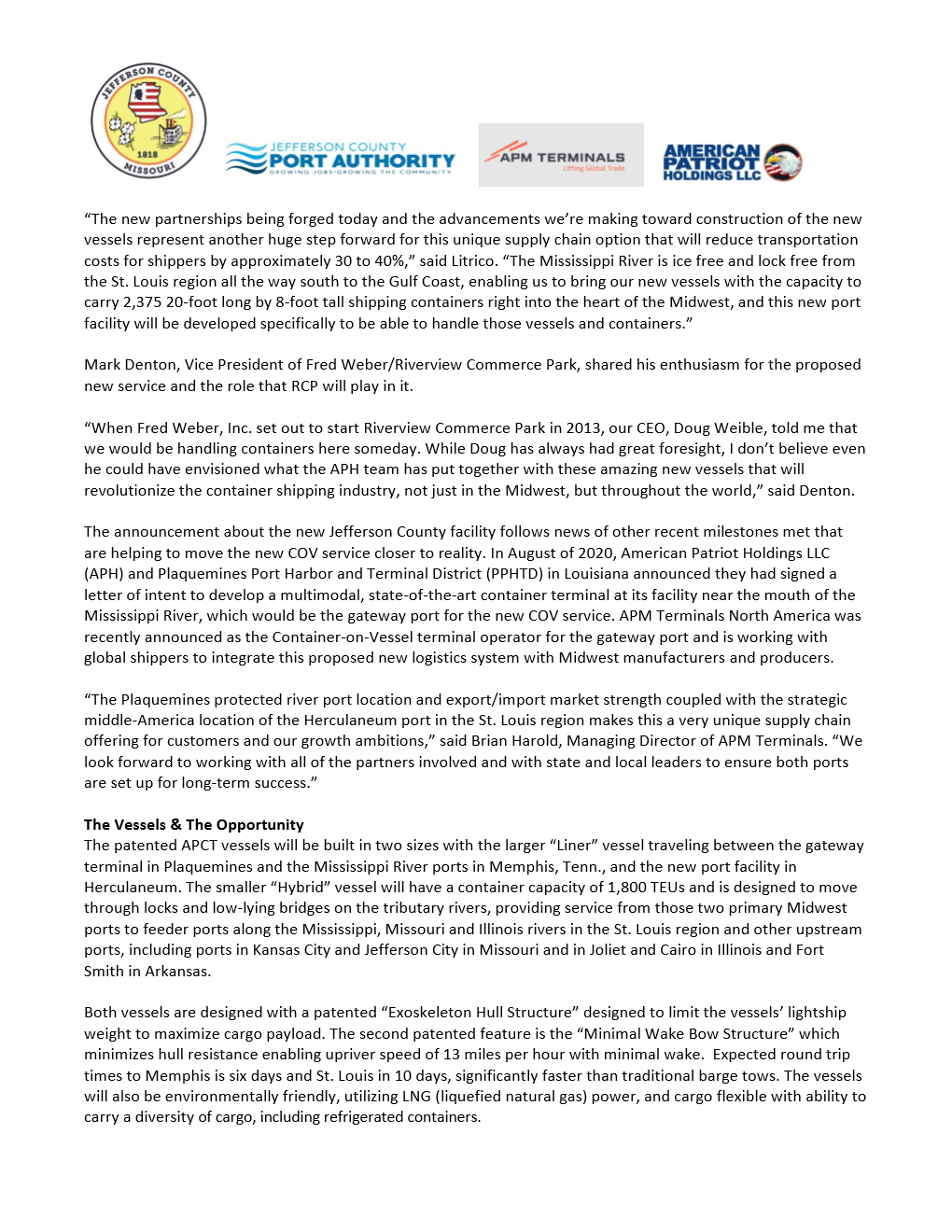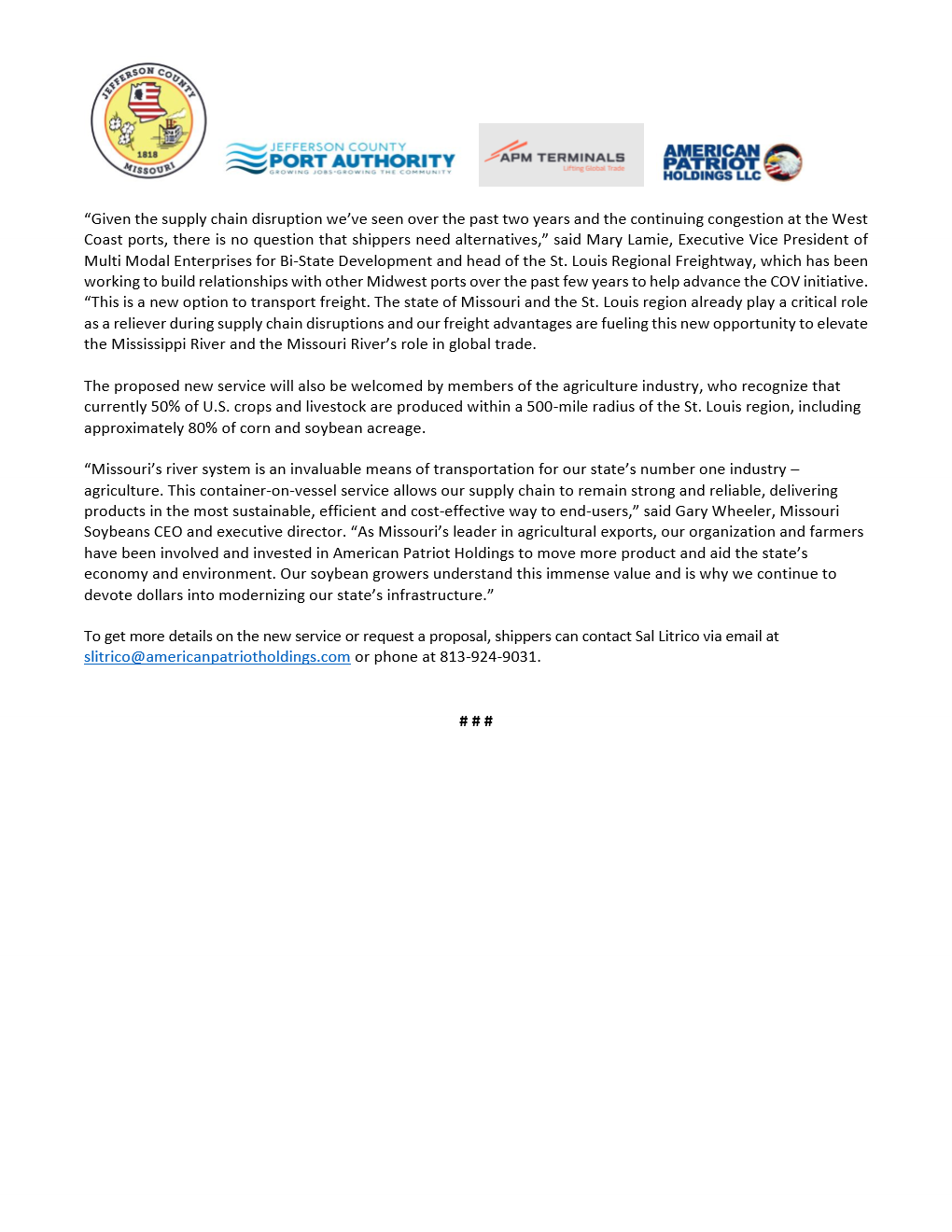 Meet our newest member, Kim Sebaugh, with Real Living Gateway Real Estate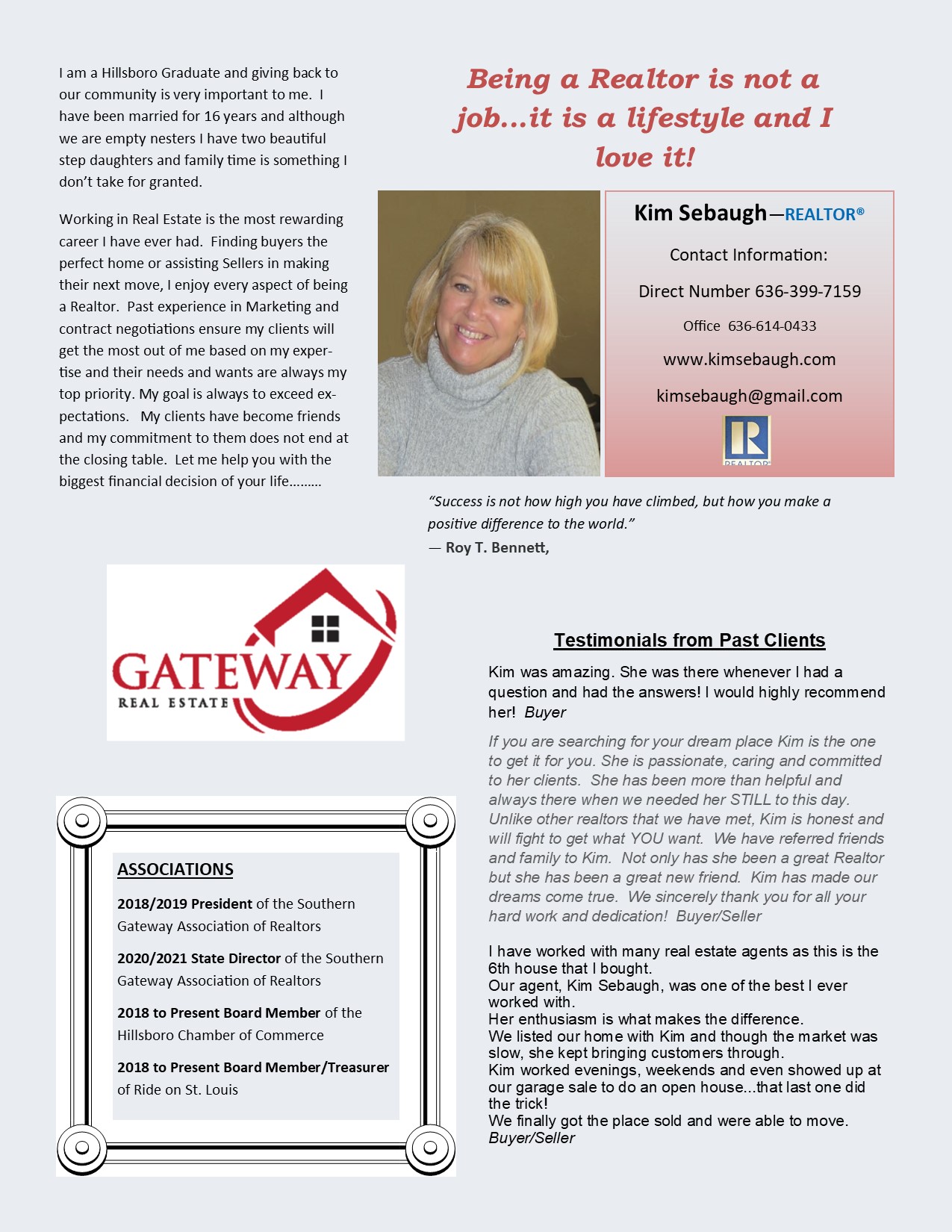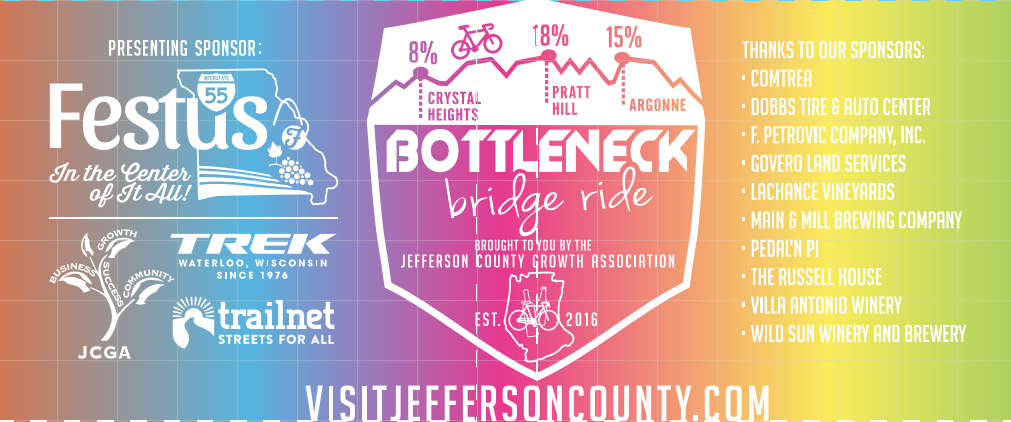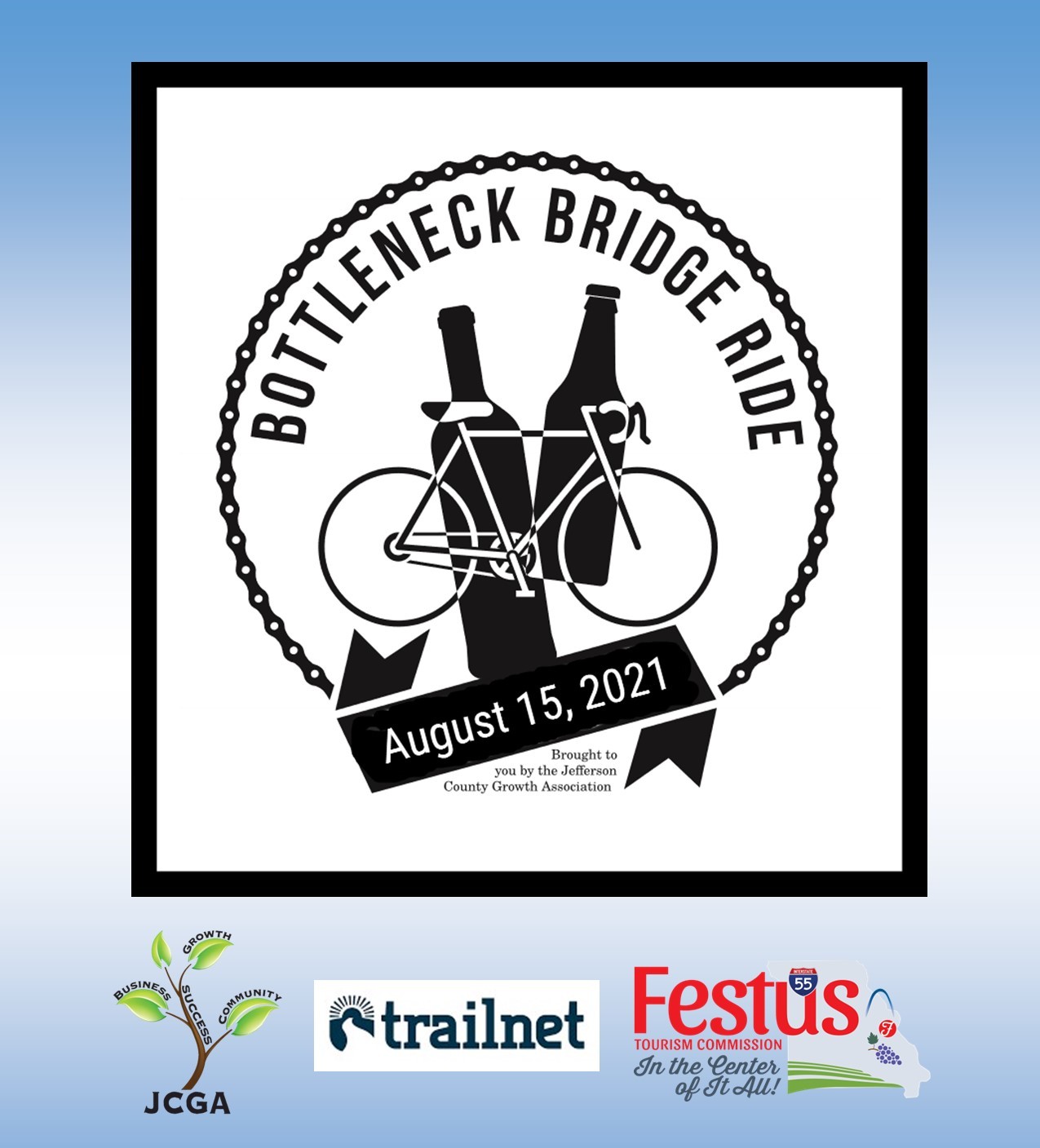 Footage from the 2021 JCGA Bottleneck Bridge Ride.    Thank you to all our sponsors for making this event possible and to all those who came to ride in the event!
Click on the photo below to access the footage
See below for the featured write up in the Jefferson County Leader on the recent JCGA 6th Annual Bottleneck Bridge Ride
SHOPPING LOCAL
Shopping local creates the sales tax money needed to fund our local fire,
ambulance, and police. It also generates funding for road repairs.
" Shop Jefferson County,
it may just save your life!" 
Dan Govero, JCGA President
     If you would like a bumper sticker to show your support and promote shopping local in Jefferson County,
please call 314-210-0211 or send an email with your return address information to jcgaorg@gmail.com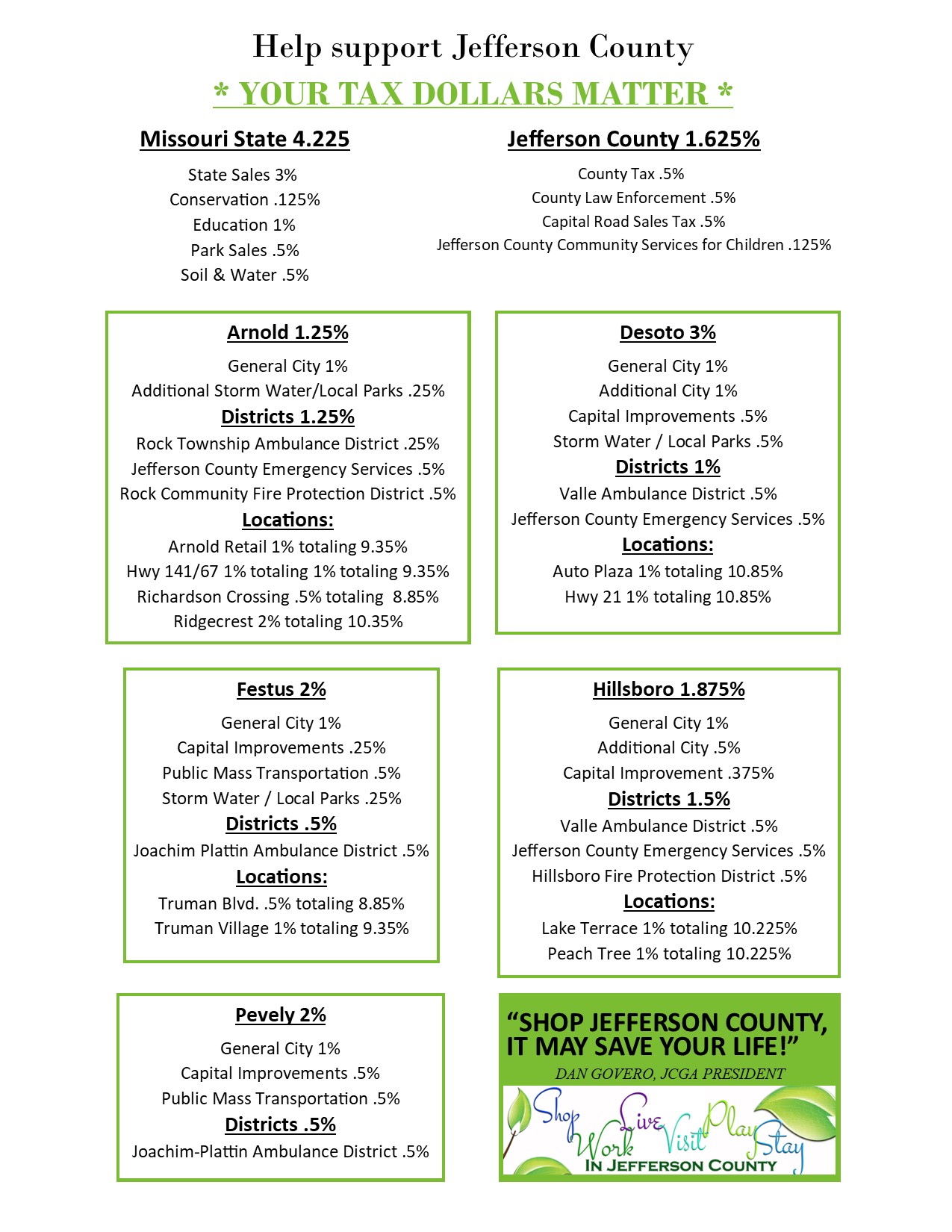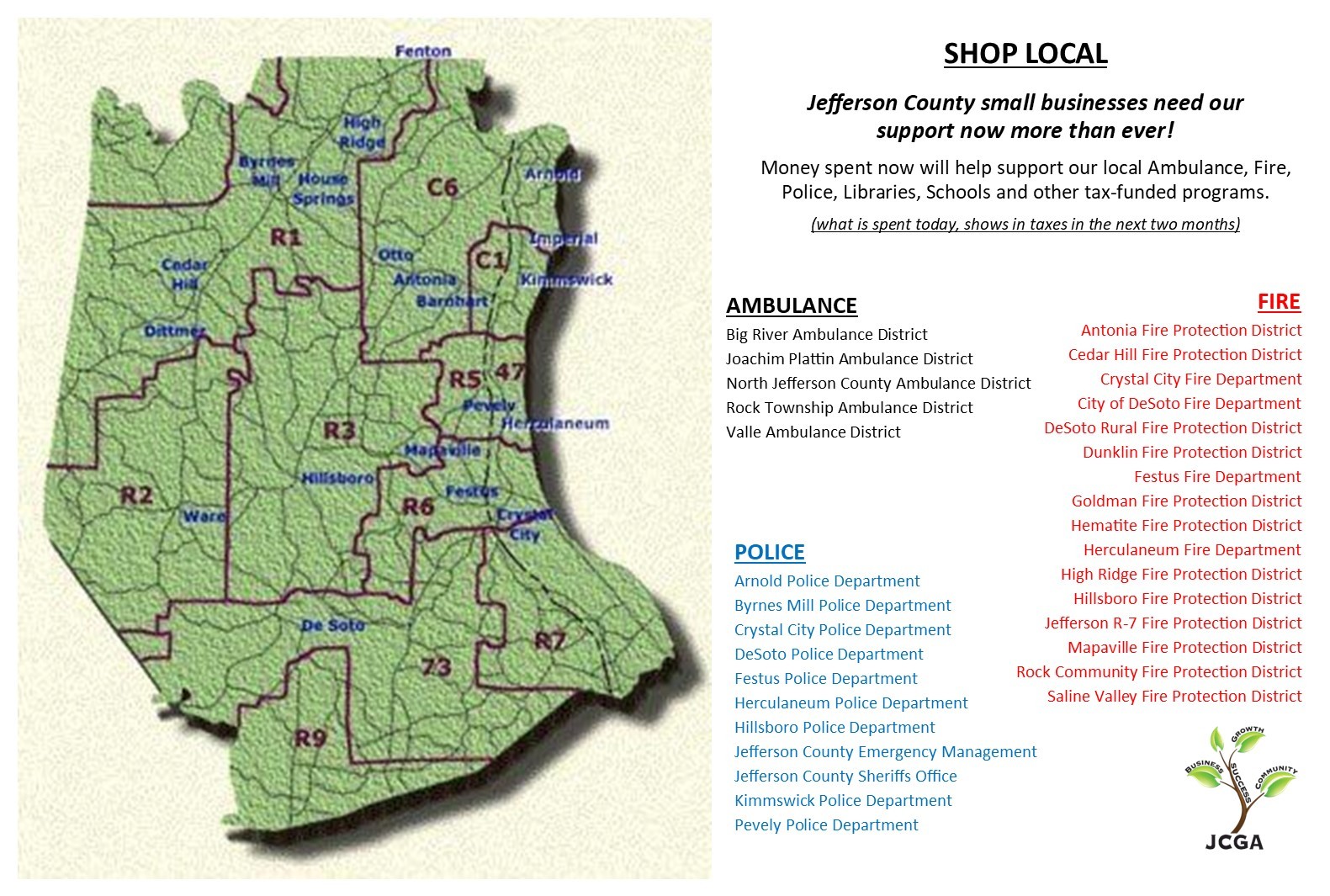 One Plan, One Voice   ~   2021
"One Plan One Voice" is a multi-year plan to transform Jefferson County into a destination community attracting businesses, families and tourists for its quality of life and economic opportunity. From a regional brand that illustrates our strengths and enhances regional perceptions, prioritized roadway and safety improvements, support of continued investment in education, broadband connectivity and strategic business and economic development partnerships, JCGA leadership, members and partners create the road map and work together for economic prosperity.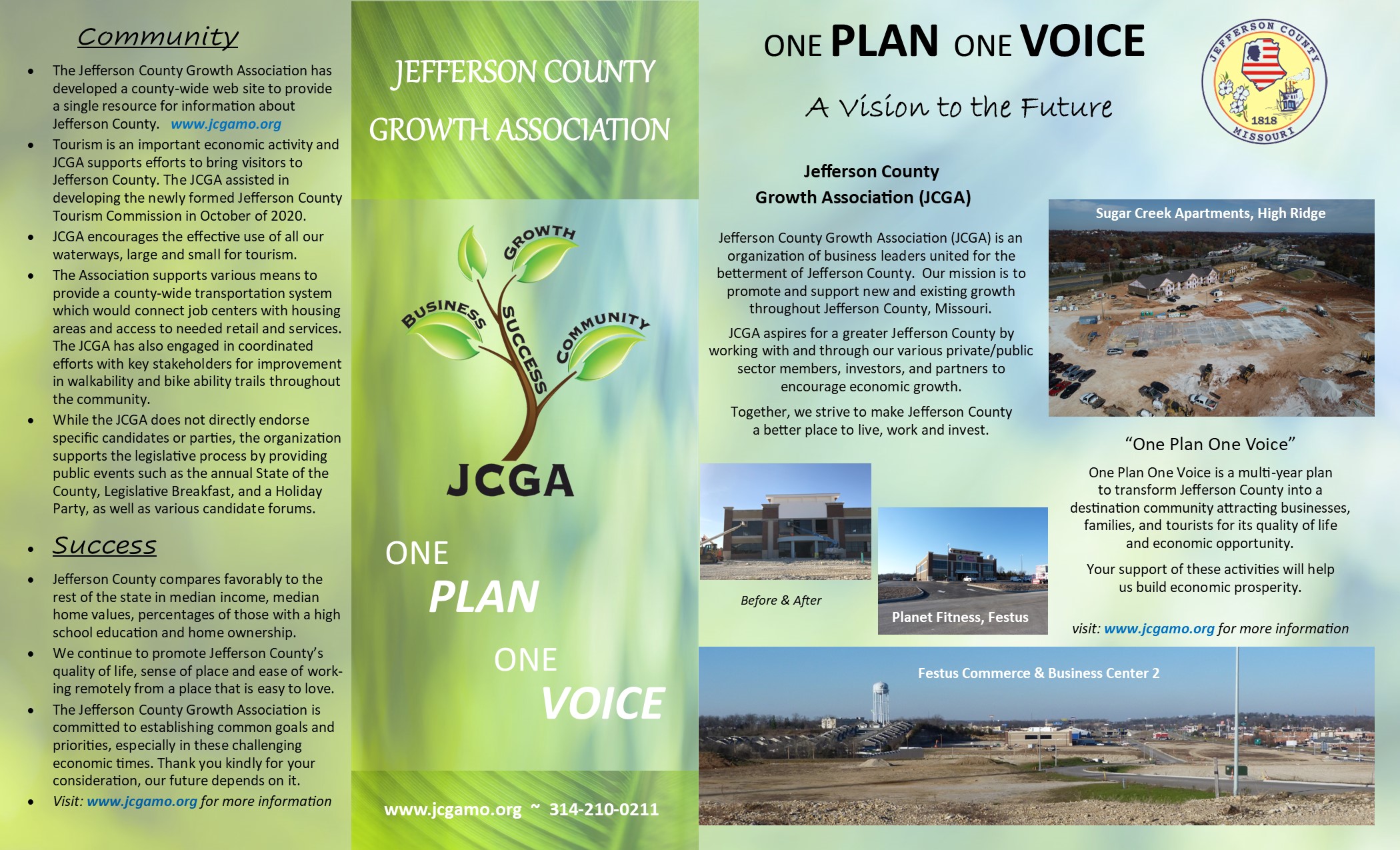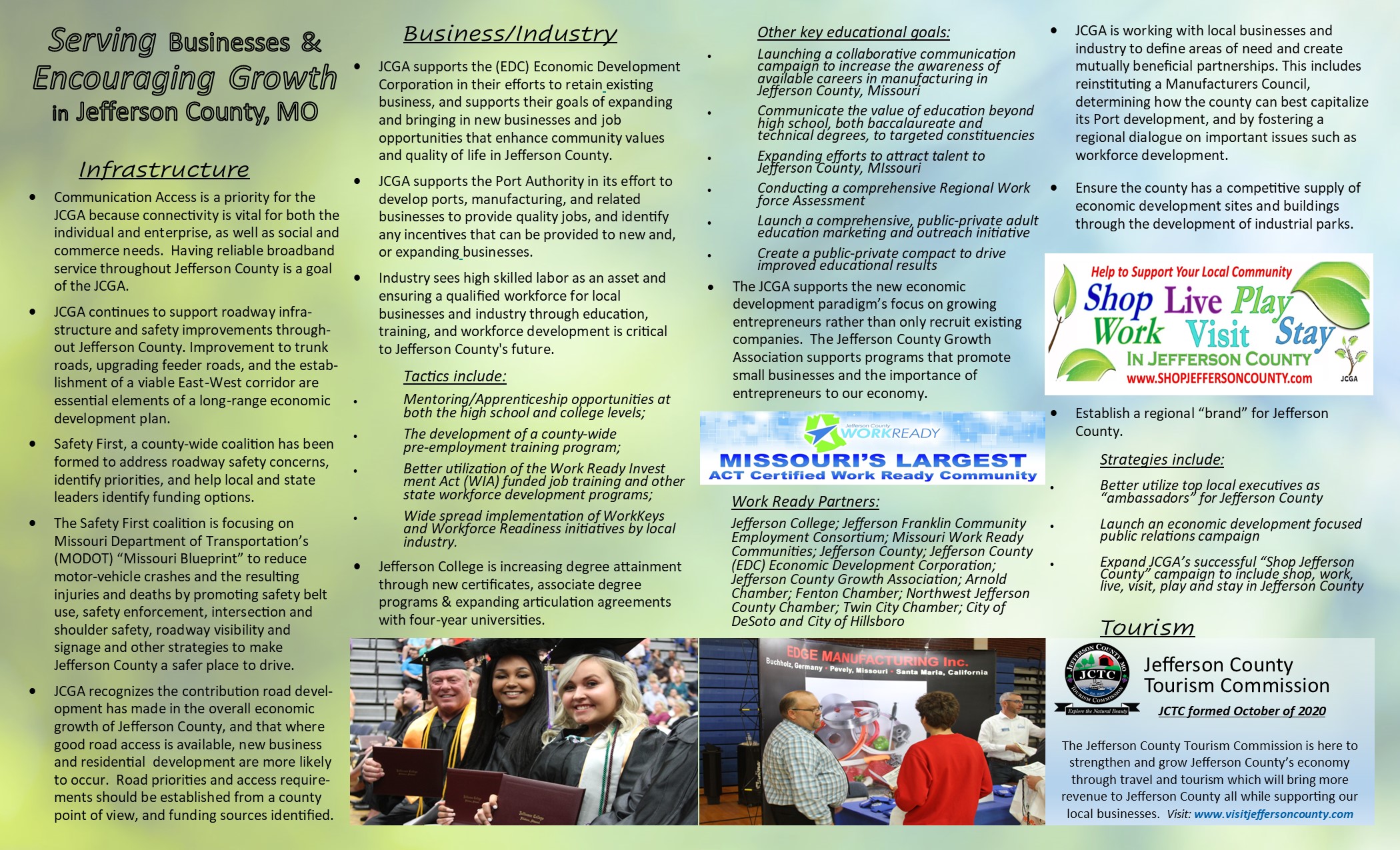 Jefferson College Observatory
"Aim for the Stars" Educational Events Scheduled for 2021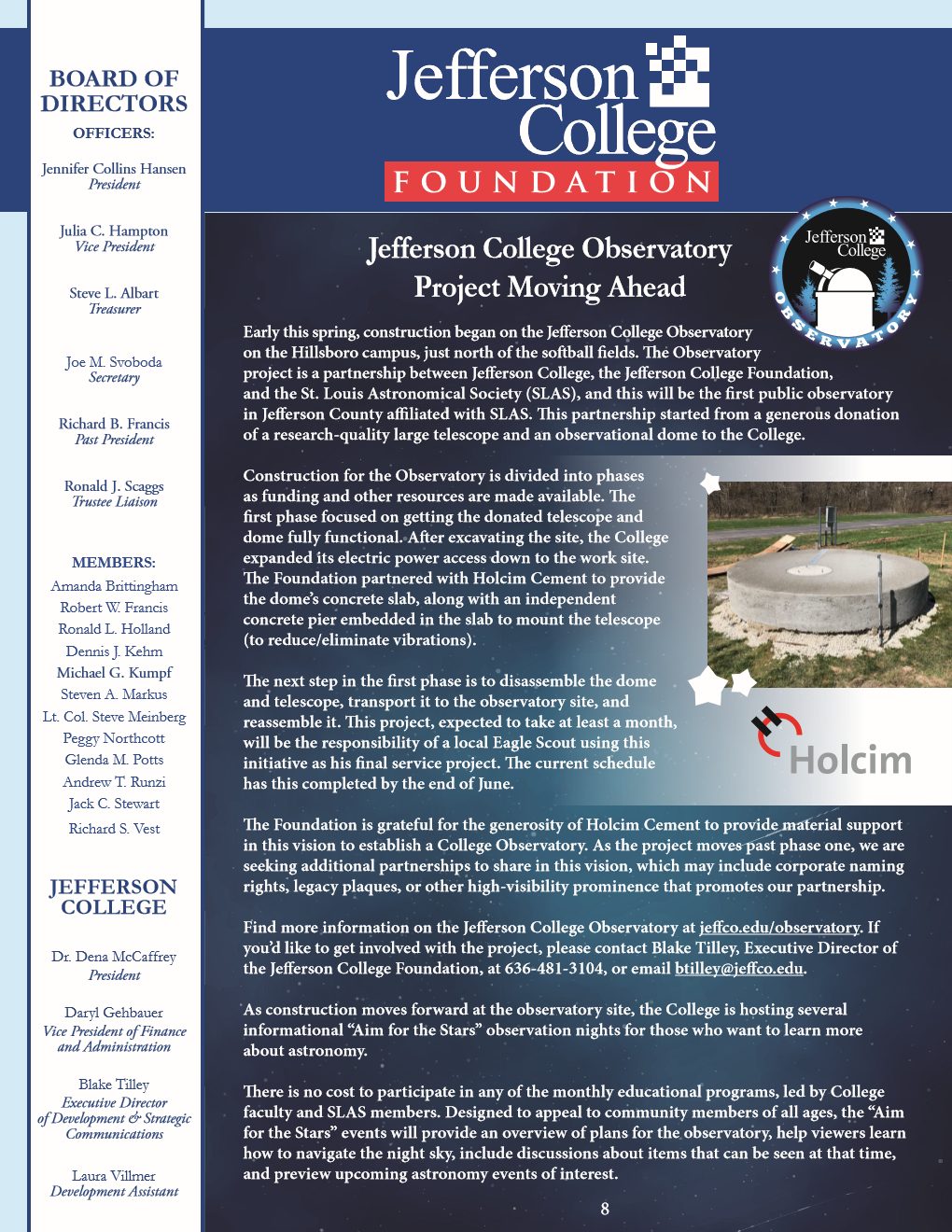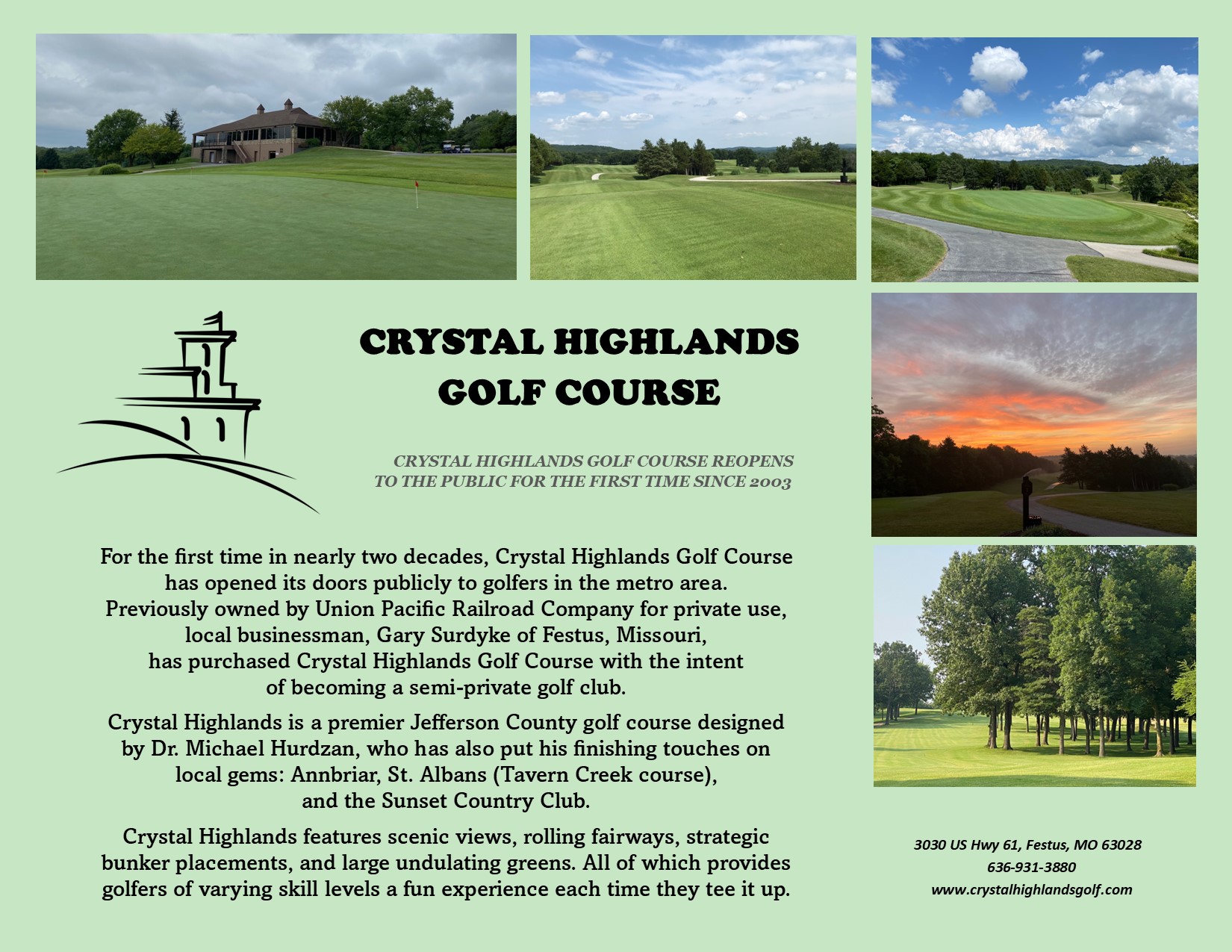 Crystal Highlands Golf Course